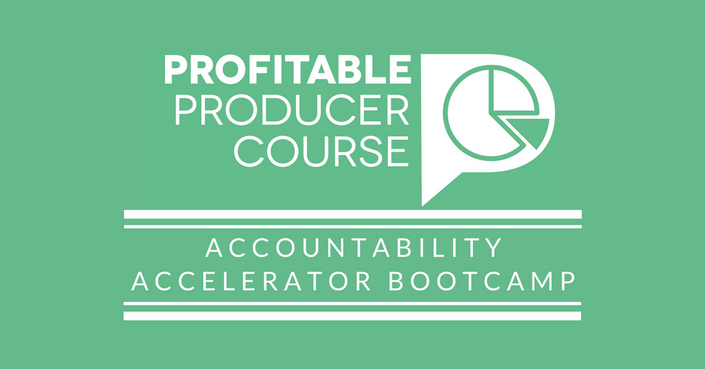 Accountability Accelerator Bootcamp (PPC Students Only)
Select this option if you'd like to be a part of the accountability program
The Accountability Accelerator Bootcamp 8.0 (PPC Students Only)

Without accountability in your life, what's stopping you from binging yet another season of House of Cards on Netflix? What's keeping you on track to do the things that you know you need to do?

This is what the accountability bootcamp is built around, and it's the centerpiece of the Profitable Producer Course.

We will be putting a system and environment into place that rewards you for doing things that are good for you, and will ultimately help you accomplish the goals that you set for yourself.

This is the biggest differentiator from your normal online courses, because we've created a program that uses Commitment Devices that are statistically proven to make people take action on the things that they KNOW they need to do, but cannot seem to MAKE themselves do.

Simply put, this program will keep you on track over the entire eight-week program to help you make a positive difference in your life.

Here's a quick rundown of how it will work:
On week one you'll be split into equal teams of 8-12 and assigned team names (alpha, bravo, delta, gamma, etc.)
Each week you'll be assigned action items with a due date – these are tasks that will help grow your business, and shouldn't take more than 1 to 3 hours per week to complete.
If the action items are not completed on time, you and your team will earn a strike.
If you accumulate three strikes then you're out of the accountability bootcamp – although there will be chances for you to eliminate strikes and get back in via extra credit.


I don't have nearly enough space here to give you all of the details of the accountability bootcamp, but watch the video above where I go in depth on how this system will work.

My goal is that every single person who joins the Profitable Producer Course also joins the optional accountability program. By joining it, you'll be doing yourself a massive favor!
Why $20?
The $20 cost does NOT go to me. Each $20 payment will be added to the "Accountability Pool". The total number of students who join the program will dictate the total size of the accountability pool.
Regardless of the number of students who join the accountability program, I will also be adding $1,000 of my own money to the accountability pool. If 25 of the students join the accountability program, the total Accountability Pool size will be $1,500 ($500 from students, plus my contribution of $1,000).
What Happens To The Money?
As as we progress through the eight-week program, students will be accumulating strikes if they miss deadlines for action items. Students with 3 strikes are out of the Accountability Pool.
At the end of the eight weeks, the students who have not struck out will split the entire accountability pool equally. So if 50 students remain, and the accountability pool is $2000, each student who successfully completed the accountability program would receive $40.
If 25 students remained, then each student would receive $80. If (heaven-forbid) only 5 remained, then each student would get $400. I'm sure you get the point by now.
This is just one of many of the commitment devices used to ensure you do what you know you need to do!
When Does AAB 8.0 Start?
The EIGHTH iteration of AAB will be starting January 10th, 2022. Once the bootcamp starts, however, your $20 is "locked in" and you will be expected to participate with your teammates.
This course is closed for enrollment.